Who we are
About Us
Propel was founded with a mission to connect consumers to better fuels. Propel has pioneered clean fuel retail, leading the industry with unparalleled innovation in retail technology and customer experience. Propel has also developed CleanDrive®, the nation's first integrated carbon emission reduction tracking platform.
With Flex Fuel and advanced diesel locations across California, Propel provides new fuel choices that are higher in performance, deliver better value and create healthier communities. See you at the pump.
As the coronavirus impacts our communities, Propel is taking steps to protect our employees and customers like you. > Read more
---
Research and development
​The Workshop​ is Propel Fuels' R&D lab and data analytics studio. The Workshop's mission is to accelerate market adoption of low carbon fuels and transportation. We seek to inform and empower public policy and private sector activity by quantifying what we learn as a leading downstream provider of low carbon fuel. ​Visit propelworkshop.​com​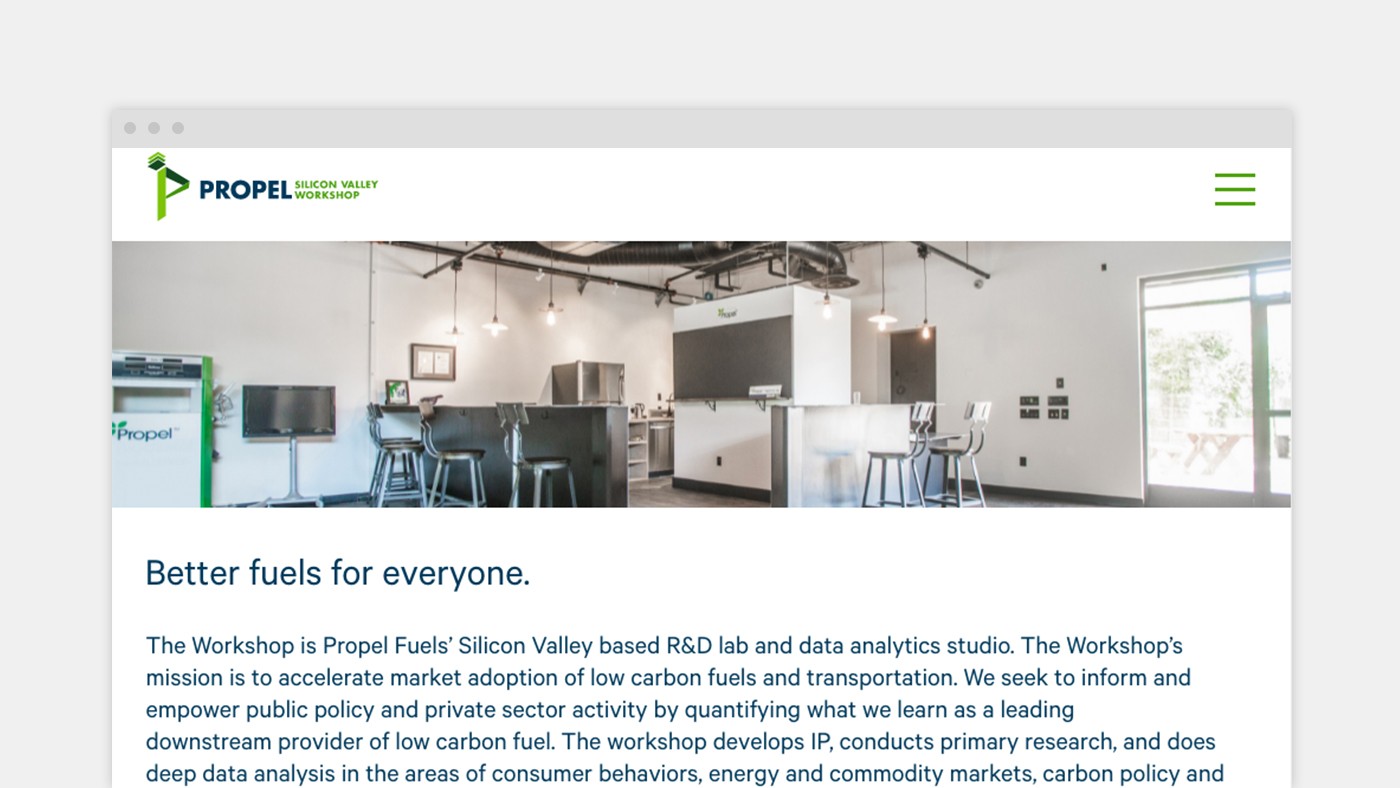 ---
The annual Inc. 500 list includes the fastest-growing companies in the U.S. Propel ranks as the 17th fastest growing private company in the Energy sector, 352nd overall, and America's fastest growing private fuel brand.
Silicon Valley's Top 10 Fastest Growing Company
Propel is ranked among Silicon Valley's top 10 fastest growing companies, in a region where it takes explosive growth to get noticed.
American Institute of Architects Honor Award
Redefining the fuel station, Propel's station design was recognized by AIA Seattle and the Journal of Commerce for innovation in design and sustainability.
The InfoWorld 100 was awarded to CleanDrive, Propel's personalized emissions reporting platform. The award celebrates IT projects that use technology in smart, innovative ways to meet business and technical objectives.
Bay Area's Top 25 Fastest Growing Company
Propel is ranked among the San Francisco Business Times' top 25 fastest-growing private companies. The list represents nearly every industry and include food, e-commerce startups and software firms.
CCA is dedicated to restoring clean, healthy air to California by advocating for effective public policy and practical business solutions.
National Association of Convenience Stores
NACS serves the convenience store and fuel-retailing industry through market research, conferences and trade shows, political advocacy, and legal action.
San Francisco Business Times Cleantech Awards Finalist
Propel was named one of the top 50 companies in the industry and the only "last-mile" fuel provider to win a spot on the list by Biofuels Digest.
Green Innovator Award of Excellence
For more than 60 years, the San Mateo County Economic Development Association (SAMCEDA) has honored leaders in innovation and entrepreneurship—defining characteristics of the Silicon Valley.